Teaching children about cryonics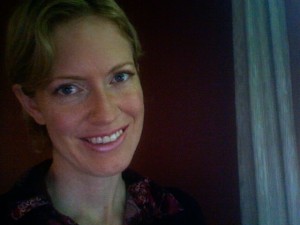 How do you teach a child about something that is so far "unproven"?  How do you bring up the subject of cryonics and how it may allow someone to be reanimated in the future?
I am a cryonicist, I've been a signed member for years, I'm also a mother, social activist, environmentalist and author.  I teach religious education at my church, and I volunteer in my children's schools.  My book "21st Century Kids", set in the year 2008, is about two children who 'die' now but are cryonically preserved and then reanimated 200 years in the future.  The book deals with how they view the society then, and how that society views them.  The book is of course science fiction, but it is based on things that scientists see as possible now.  When I talk to an eager classroom of 9-& 10-year-olds at a school about my book, I read passages out of it that are exciting and imaginative like the nano-tech and simulated artificial reality parts, but I also make sure the subject of cryonics comes up.  I've talked with dozens of classrooms, and hundreds of children at my own church about cryonics.  I know how hard it can be, death is a reality—it is a fear for children, or it is a sadness when someone they loved died—they may think that person is in heaven, and they will see them again–when cryonics comes up, the children become animated sharing stories, and what they think.
I love children for their open-mindedness.   Of all the children I've talked to, many have said cryonics sounded neat or cool—I even had a few say they were going to tell their parents they wanted to sign up for cryonics.  I've amazingly heard back from several parents over the past few years, asking me for information.  I give them cryonics magazines, and talk with them about life insurance and how easy it is to set up—the importance of being signed if something unexpected happens so you don't have to be a 'last minute case' and I go over the basics of just what cryonics is with them.  This blog piece would turn into a book if I listed all the things I say and children ask—but I'll go over a few of my 'sound bytes'.
I tell children that some people choose cryonics because they've seen studies that showed cat brains have been preserved at colder than ice temperatures for several years and had normal looking electrical activity when re-warmed and given new blood, but we can not yet re-animate the whole body and all of the organs.  I say that there are scientists right now looking at how to better preserve organs for humans in hospitals, like when a person in a hospital in Texas needs a new kidney, and a person in California who has a kidney that would match, dies—how to get that kidney to the person in Texas fast enough, through ultra cold transport and planes.  I say cryonicists also like that some children have been born and grown into healthy adults after having been preserved cryonically as embryos. This makes them think that the procedure might work on a whole human someday.   I tell children that I, and my own children (usually the kids I'm talking to know one of my three kids) are signed up for cryonics, and when we die–like if a car accident happened tomorrow—we will be preserved, and most importantly our brains will be preserved in case scientists in the future figure out how to get it running again.  I say that even if they don't, scientists from now are very interested in the mummified Egyptian bodies from over 3 thousand years ago—and have even been able to better understand some diseases now by looking at the diseases the mummified bodies had, and how those diseases have evolved since then.  I say that my body will be donated to science, and that if my brain is not made to have full awareness after several hundred years then I hope that some things can be learned by the future society about the preserved bodies from now.  Kids want to know how long I think it would take to work, I say I think over 500 years—and say that it would be likely to work if society, technology and medicine keep advancing as they have over the last 500 years.
It is hard to predict when talking with a group of children, where the talk will go—I ask them questions, like if they know something their great grandparents didn't have a hundred years ago, we end up talking history and then talking about what could be.  Children sometimes bring up very sad stories about someone dying, and I say yes even with cryonics when someone is dead—they are gone from now, to us and their family is sad, they don't know if they will ever see them again.  I've had the heart wrenching experience of an 11 year old talking about how his dad died of cancer, and I've had a few children in the 5-7 range who share about a grandparent who died and how much they miss them.  I empathize with their loss.  I say to children that  I believe their loved one is in a better place, that many cryonicists too want to go to a better place they believe in, like heaven—and they think they some day will, but if cryonics works they'll have more time here on Earth to do good deeds—to try to help with some of humanities problems, before they go on.  It is hard to talk about death, but children will share deeply as they have their own fears about death and that gives me solace, the section about cryonics is deep, is profound but we always move on.
Children like the idea of cryonics, but they also like to talk about "future weapons" they see on T.V., and each group I talk to always brings up space travel.  Cryonics is a short part of our conversation, and wherever our conversation goes I try to keep it exciting and to stimulate their imaginations.   Having a group of children to speak with about futurist issues at a school or a church and covering cryonics is a lot of fun, and I always try to stay sensitive to what other parents might say when their children tell them what they 'learned that day'.  People wonder if I talk differently with my own children, and the answer is not really.  Sure we make more jokes about "if cryonics works then…."Or if doing something dangerous joking "make sure I'm preserved if…" but in the end, I say the same things to them that I would to a group of children that are not my own.  Cryonics is not proven, it is just a chance, it would be fun if it worked and some of the research into it can help people now and I'm proud to be a cryonicist.  I tell my children that I'm happy that they are too. I also tell my children that I hope that after they are adults and choose partners in life to start their own familes with, that their families will also be cryonicists.
In the end, I'd encourage other cryonicists to share their views with children they know—they could even present "21st Century Kids" to a group of children, or simply give it as a gift, or read it to kids they know.  Teaching kids about cryonics is simply sharing what could be, it is not giving false hope—but hope that is based on science and studies that show it could work someday. Even though I share about cryonics with many adults, I have the most fun teaching children about it, and I hope you too get to engage in fascinating conversations about the future and how it could be, with a wide-eyed eager child who is in awe with life.
Feedback on this article is encouraged at the Immortality Institute forum.